A key trend in transactional communications is the transition to omni-channel delivery—a Customer Communication Management platform with the ability to deliver communications across multiple channels, like email, text, print, and more.Omni-channel delivery has become increasingly important as customers adopt new communication methods and expect businesses to provide seamless and consistent experiences across all channels. For example, progressive customers are more likely to use text or social media apps to communicate with businesses, while traditional customers might prefer email or print.
Not all channels, however, are suitable for all types of communication. A text might be a better choice for urgent notifications than an email, which is better suited for less time-sensitive communications. Adjust your transactional communication strategy to suit your messaging and your audience.
Regardless of the preferred delivery channel, these best practices are proven to create effective transactional communications that provide desired results: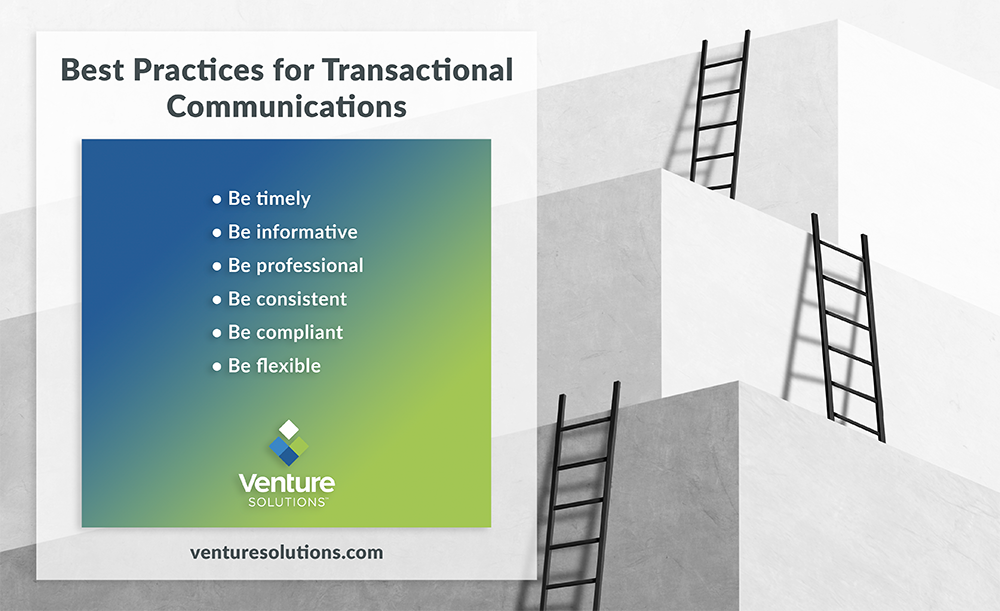 Be timely: Customers should receive the information they need when they need it. A shipping notification, for example, should be sent as soon as the package is shipped, rather than several days later.
Be informative: Provide customers with all the information they need to complete a transaction or stay informed about their account. Make sure the message includes all the details to interact with your organization, including account numbers, order information, and payment methods.
Be professional: Transactional communications should reflect the brand's image. Use appropriate language and avoid expressions that might be misunderstood by your customer base.
Be consistent: Consistency is key to creating a strong brand identity and building customer loyalty. Use a consistent design and tone of voice across all transactional communications to help customers recognize and trust the brand.
Be compliant: All transactional communications must be compliant with industry regulations and laws. For example, financial institutions must comply with regulations related to account statements, while e-commerce businesses must provide customers with accurate and timely invoices.
Be flexible: Omni-channel delivery options allow you to get the right messages to customers using their preferred delivery channel. This improves engagement and ensures you are reaching your on-the-go customers where they are.