With the right customer communication software, your team can collaborate effectively to get the right messages to the right customers at the right time. CCM software offers a wide array of features that empower businesses to create, manage, and deliver effective customer communications.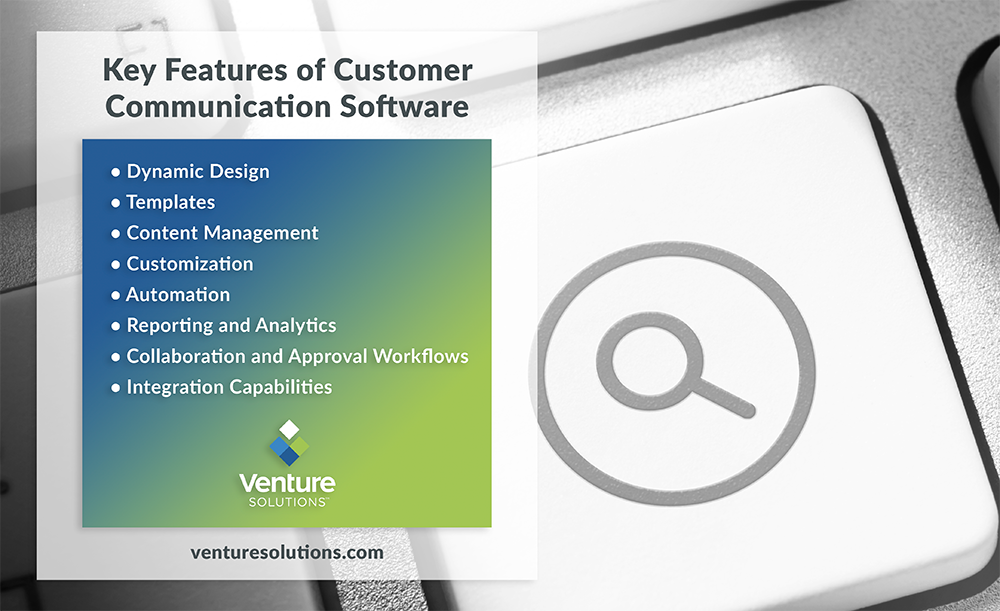 Dynamic Design: A user-friendly interface allows businesses to design and create engaging communications with ease, using templates, content libraries, and easy editing and design tools. It also provides the ability to preview, test, and approve communications before they are deployed, ensuring control over your content from start to finish.

Templates: CCM software provides templates for a variety of communications – statements, invoices, letters, notices, emails, marketing campaigns, and more. These templates can be customized with personalized data, logos, fonts, colors, signatures, and other standard design elements to meet your brand standards.

Content Management: A centralized repository provides version control, approval workflows, and reusable blocks of content, ensuring consistency and accuracy in the communication process. Businesses can customize content based on customer segments, delivery channels, and branding requirements to create highly targeted communications.

Customization: Quality personalization in your customer communications helps build customer relationships, increase engagement, and drive higher response rates. Organizations can generate highly personalized communications by leveraging customer data obtained through CCM software. Additionally merging variable customer data, such as name, account information, and more, into communication templates helps create tailored messages for each customer.

Automation: CCM software automates the communication process with workflows, triggered by customer actions at a pre-determined cadence. Automation saves time, reduces errors, and ensures timely communication.

Reporting and Analytics Data concerning production status, delivery notifications, and response rates helps businesses measure the effectiveness of their communication programs. Robust reporting and analytics features concerning this data are the cornerstone of any successful CCM software: it provides businesses with the insights needed to optimize their communication efforts and make data-driven decisions.

Collaboration and Approval Workflows: CCM software provides the platform your team needs to effectively collaborate on content, promoting consistency and accuracy while preventing miscommunications, reworks, and errors. Team members can also review and approve content before sending it to customers.

Integration Capabilities: Businesses can integrate CCM software with multiple pre-existing systems and customer data sets to create highly targeted, personalized communications. It also eliminates the need for manual data entry and reduces the chances of errors.